The CORE 500™ requires battery power for use. When unboxed, it will have enough charge to use right away.
The battery life is subject to use and is expected to last up to 60 hours of regular clinical use on a single charge. It takes approximately 3 hours to fully charge the device from 0%.
When the device is in use, the battery indicator shows the battery level. This turns red when the battery is low.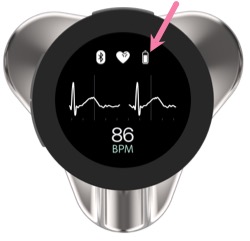 A low battery indicator on the device shows when it needs to be recharged. This screen is also shown for 2 seconds when turning on the device if:
The battery is low. The default screen of the device in resting state then appears.

The battery is critical. If there's not enough power, the device turns off.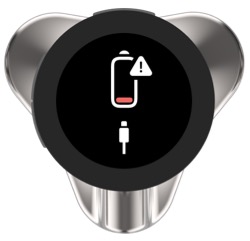 Warning
The CORE 500™ can't be used while it's charging or if it loses battery power. It also can't connect to the Eko App or Dashboard while it's plugged in and charging.
Insert the included USB-C cable into the USB port on the CORE 500™ and plug the other end into a USB wall charger (not included).

The device shows a charging indicator with the charge percentage. The device screen turns off after 10 seconds of charging. To check the charge level, press any button on the device to turn the display back on.

When plugged in and fully charged, the device shows a 100% charge.
Tip
The CORE 500™ should be periodically recharged even when in storage. Lithium ion batteries slowly lose charge when in storage and may fall to an unacceptably low level, damaging the battery.