The Eko App is available on iOS and Android mobile devices. You use it to:
Check for signs of heart disease.

Listen wirelessly using the Bluetooth-enabled device of your choice.

Record, play back, annotate, and save stethoscope sounds and ECG.

Securely store unlimited recordings for future reference.

Generate and share reports with colleagues or upload to compatible EHRs.
You must connect the Eko CORE or DUO to the app via Bluetooth before using the features in the app. This is also required to send heart sound data from the device to the app.
Using the Eko App with an Eko device isn't required, but we highly encourage it so you get the most out of your Eko device.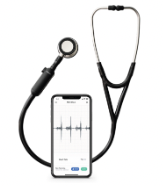 What's included
The app includes:
A PCG tracing visualization for the CORE.

A PCG and ECG tracing visualization for the DUO.

AI analysis (currently only available in the US).

Wireless auscultation with Bluetooth headphones.
Requirements
The Eko CORE and DUO must be able to connect through Bluetooth. The Eko App requires both a Bluetooth and Wi-Fi connection on your mobile device to perform an exam. If there's not a Wi-Fi connection, try using a mobile hotspot.
See our full system requirements.
Download the Eko App
For iOS: Download the Eko App here.
For Android: Download the Eko App here.
LBL422 Rev.1.0
Date of Issue November 9, 2022