The DUO™ is designed to support healthcare professionals in analyzing cardiac and other internal organ sounds. It is used to electronically amplify, filter, and transfer body sounds and single-lead electrocardiogram (ECG) waveforms.
DUO™ features audio and ECG data transmission via Bluetooth that allows the user to play sounds and visualize phonocardiograms (PCG) and electrocardiograms (ECG) in a mobile application on compatible iOS and Android devices.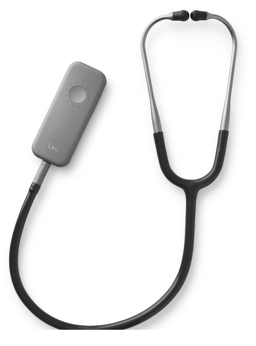 The DUO™ is often used in rural or small clinics that don't have readily available ECG machines, community screenings, home health, or any virtual/telehealth settings. Clinicians that benefit most from the DUO need quick access to a portable ECG for a complete heart assessment.
Recommended for:
Physicians

PAs and NPs

Nurses

EMTs and first-responders

Home health providers

Respiratory therapists
DUO™ comes with a threaded 3.5 audio jack that accepts the DUO™ earpiece, wired headphones, or audio cable. DUO™ supports wireless listening with most Bluetooth headphones, hearing aids, and other audio devices.
The two ECG electrodes are made of stainless steel. They are designed to work dry — that is, without any gel or cream. However, gels or creams can improve the signal quality in some situations.
No, the DUO can't be used on patients with cardiac pacemakers or other electronic implanted devices.
The Eko DUO™ System is intended to be used by healthcare professionals to electronically amplify, filter, and transfer body sounds and single-channel electrocardiogram (ECG) waveforms. The Eko DUO™ System also displays ECG waveforms and phonocardiogram waveforms on the accompanying mobile application for storage and sharing (when prescribed or used under the care of a physician). It can be used to record heart sounds and cardiac murmurs, bruits, respiratory sounds, and abdominal sounds during physical examination in normal patients or those with suspected diseases of the cardiac, vascular, pulmonary, or abdominal organ systems. The device can be used on adults and pediatrics.
The data offered by the device is only significant when used in conjunction with physician over read as well as consideration of other relevant patient data.
The device should not be used on infants weighing less than 10kg.
The DUO™ and the Eko App are cleared for use on pediatric and adult patients. Eko Analysis Software is cleared for use on adults 18 years and older.
The DUO™ provides wireless functionality using Bluetooth technology when using the Eko App for iOS and Android. The app pairs with Bluetooth-enabled headphones, hearing aids, and speakers. Note that the DUO™ itself doesn't pair directly with wireless listening devices. The pairing is through the Eko App.
To learn more, see Set up wireless listening for hearing loss or headphones.
While the DUO™'s clinical performance and safety is cleared for human patients, it can also be safely used on animals under the use of veterinarian professionals for animal auscultation.
However, the DUO™'s form factor was optimized for human patients. If you only need digital stethoscope functionality, we suggest the 3M™ Littmann® CORE Digital Stethoscope or Eko CORE™ Digital Attachment.
Important
Arrhythmia detection, supported by Eko AI, is not intended to be used on animals.
Tips for ECG readings for animals:
Wet the fur with water.

Use ECG gel if wetting the fur doesn't help.

Always use the DUO™ on the least hairy spots. Under the armpits usually works.

Shave the hair in the area where you'll be placing the DUO™.
Yes, the DUO™ connects with the Eko App. Download the Eko App for free (for iOS from the Apple App Store, and for Android devices from the Google Play Store).
Yes, the DUO™ and Eko Analysis Software is FDA cleared and CE marked.
| | |
| --- | --- |
| LBL: | 0002316 Rev.1.0 |
| Date of Issue: | August 16, 2023 |